CS1-VC: CranioSacral Therapy 1: Lecture Content; Distance Instruction; Assessment of Central Nervous System and Fascia for Full Body Treatment Protocol
CS1-VC June 10-11, 2023 VIRTUAL Central Time (Minneapolis)
Teacher/Presenter:
ASHA Transparency Statement Required for CEUs: SPEAKER DISCLOSURE: Financial: Teacher receives a fee for teaching this course. Nonfinancial: Teacher has no nonfinancial relationship to disclose.
Core-Pak Seminar Series offers a substantial discount for the seminars and a convenient payment plan of $100 per month - see details at bottom of page.
Tuition Discount available to Full-Time Healthcare Students who qualify – call 561.622.4388 for details.
Attend virtually from the comfort of your own home! Call for details, 561.622.4334.

Program includes:
1) 2-day virtual training with live instructor
2) 2-day CS1 hands-on class at a future date (OR you are welcome to attend a complete CS1 4-day class in the future, at no additional charge)
3) CS1-VC supply kit (includes handout materials to supplement the presentation, and palpation and anatomy aids)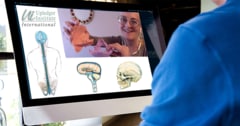 Description:
Few systems have as much impact on the human body as the craniosacral system. It protects and nourishes the brain and spinal cord - and affects nearly every aspect of central nervous system performance. That's why CranioSacral Therapy (CST) is so critical to your healthcare practice.

Developed after years of university research and testing, it allows you to release fascial restrictions anywhere on the body that may be impinging the craniosacral system and every other system it interacts with.

This course will introduce you to the anatomy and physiology of the craniosacral system. You will learn palpatory skills, fascial and soft tissue release theory, review dissection slides and discuss their relationships between restrictions and dysfunction. Layered palpation skills will be demonstrated and practiced, practice listening stations, cranial pumping and still points.

For more information about CranioSacral Therapy 1 class go to:
http://shop.iahe.com/Workshops/CranioSacral-Therapy-1-CS1

YOU WILL BE PROVIDED THE ON-LINE ACCESS INFORMATION 5-6 DAYS PRIOR TO THE COURSE. Please respect the integrity of the work and the program, and the privacy of participants and presenter/s. No still or video screen captures are permitted during this program.

We worked with our course faculty and ombudsmen to create this opportunity to share the foundation of the CS1 curriculum with you, via a Zoom online platform. This information may be invaluable for self-help during these trying times. Following this special 2-day format, you will be eligible to attend either a special 2-day CS1 Hands-On Class, or a complete CS1 4-day class in the future (at no additional charge) and then move on to CS2.
Advance Preparation:
We will ship to you a CS1-VC supply kit. If you have not already confirmed your shipping address, please contact us to do so. Your kit will include handout materials to supplement the presentation, and palpation and anatomy aids.

The required reading for this complete course (CS1-V + CS1-L) is Chapters 1-6 in CranioSacral Therapy (CSTI) and Your Inner Physician and You (IPAY). Both books are authored by course developer, John E. Upledger, DO, OMM. In addition please familiarize yourself with the definitions and/or locations of the anatomical terms available at:

http://www.upledger.com/seminar_info/Terms/CSIterms.doc

The majority of these terms can be found in the text CranioSacral Therapy (CSTI), as well most anatomy texts such as Atlas of Human Anatomy (NAS) by Frank Netter, MD. The CST textbook is available for purchase by calling our office at 561.622.4334 or 800.233.5880 extension 2 or online at www.iahe.com.

For both course preparation and implementing the material into your practice, we offer a 'CranioSacral Therapy Starter Kit' which includes the following items:

~CranioSacral Therapy (text book)
~Your Inner Physician and You (book)
~10 Step Protocol Poster (laminated wall chart)
~10 Step Protocol Mini Poster (11.5" x 9" double sided laminated chart)
~1-Year Upledger Alumni Association-IAHP Medallion Membership - Medallion Membership benefits are many -including post course video review of CS1 material.

Starter Kit $120 plus shipping
Total cost if purchased individually $235.95
~Savings $115.95 (prices subject to change)

ONLINE SHOPPING:
CST Starter Kit: - http://shop.iahe.com/Product-List/Health-and-Wellness/Starter-Kit-
CS1 CSTI: - http://shop.iahe.com/Product-List/Textbooks/Craniosacral-Therapy
IPAY: - http://shop.iahe.com/Product-List/Health-and-Wellness/Your-Inner-Physician-and-You