FASCIA 06.26.21 VIRTUAL Eastern Time (Miami)
FASCIA: What is the Fascial Significance for Your Manual Therapies?
FASCIA June 26, 2021 Virtual Eastern Time (Miami)
Teacher/Presenter: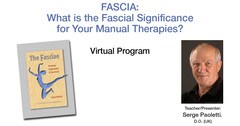 Description:
This is a pre-recorded presentation, hosted by a IAHE Facilitator. There are no manual therapy techniques without fascial participation and fascia is the link between all the different modalities. Join renowned osteopath, and author of The Fasciae: Anatomy, Dysfunction and Treatment, Serge Paoletti, DO (UK), as he discusses the role that fascia plays in manual therapy.

• Delve into the fascial implications when applying cranial, visceral, structural and various other soft tissue treatments.
• Learn how fascia is involved in epigenetic psychosomatic dysfunctions.
• Discuss the system of fascial tension and its interaction with acupuncture meridians and, therefore, the energy possibilities of the fascias.
• Explore the fascial support between our chakras and associated nerve plexuses.
• Learn why fascia is a key component for treating babies and facilitating changes within their epigenetic system.

Serge Paoletti graduated from the European School of Osteopathy. He has taught at the ESO, as well as other schools including: the College Internationale d'Osteopathy (CIDO) in St. Etienne, France; the Viennese School of Osteopathy (WSO); the French Osteopathic College (COF) in Paris and the German Osteopathic School (OSD) in Hamburg. He obtained his title as Manual Physical Therapist in 1973 and also graduated from the European School of Osteopathy, Maidstone (GB), in 1983. He worked as an assistant at the North Paris University (DUMENAT) from 1984 to 1987.

Includes 40 minute bonus presentation of Dr. Len Wisneski, MD, FACP: Empowering Change through Policy.
Advance Preparation: